Architect, interior architect, furniture designer, and enthusiastic draftsman. The regretted post-modern architect Gerard Cools (1938-2009) was at home in all markets.
A man who boasts an impressive oeuvre that spans several decades. In 1962 Cools graduated from the Sint-Lucas Institute in Brussels and he remained active until his sudden death in 2009. Architect Cools was known for maintaining an innovative, personal style without neglecting the wishes and budget of its builders.

We have an unique house by Cools for sale in Hever and we take a closer look at the home of the master himself.
---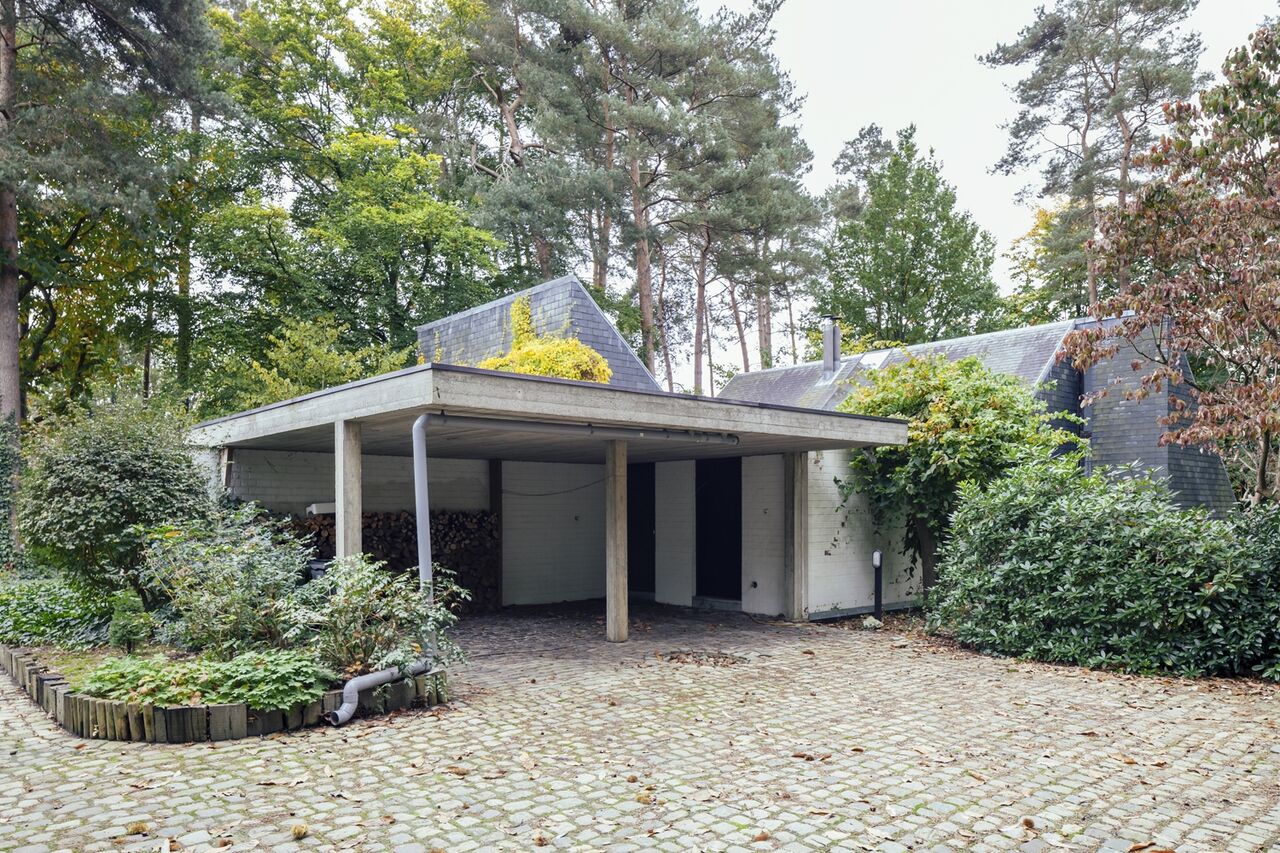 The innovative style of this post-modern architect is clearly present in his own home. The house has a brutalistic design because of the concrete ceiling, the white painted brick walls and the natural stone tiles. In addition, this building also exudes the atmosphere of the 'Turnhoutse school', a tendency that was not averse to innovative ideas.
Which is not surprising: Gerard Cools was one of the big names in the Kempen and good friends with other architects.
The way the roof is conceived, for example, reveals a region-specific way of working. Far from the well-known modernist bungalow with a flat roof, you will see a creative variety of different roofs at this property.

Not only are the architecture and interior of this home authentic and original. The furniture was also designed by architect Cools himself. Particularly noteworthy are the custom-made wooden dining table and the long, floating dresser that separates the living room from the dining room.
Cools architectural office and meeting room are integrated into the home, which makes the habitable surface considerably. The architect was also able to make optimal use of the available space thanks to the many customized solutions that are present right up to the ridge of the roof.
In the mid-1970s, brutalism reigned in post-modernist circles. Brutalistic materials such as visible brick and rough concrete are present in this purist architect house, where the texture of the formwork wood remains visible. In addition, the strongly sloping roofs and the slanting, sharp corners of the interior of rooms demonstrate an innovative architecture.
Also striking is the generous vertical glass strip that he often applies to the roof. Not only does this provide, among other things, zenital light that invades the home perpendicularly. The symbiosis between architecture, interior architecture and environment is also strengthened by this.
---
FOR SALE

WONING VB in HEREN
GERARD COOLS + B-BIS ARCHITECTECTS
1977